Social Media is a tool that a growing number of employers and recruiters are using to evaluate and make informed decisions on whether or not to hire an individual.  Below is a clip of a cool infographic that looks at different areas that affect possible employment. 
This infographic was put together by Charles Vesley, David Lamb, Samantha Turner and Paul Murray for Professor Steven Johnson's Social Media Innovation Course at the Fox School of Business at Temple University.  For the entire infographic, go to Professor Steven Johnson's blog.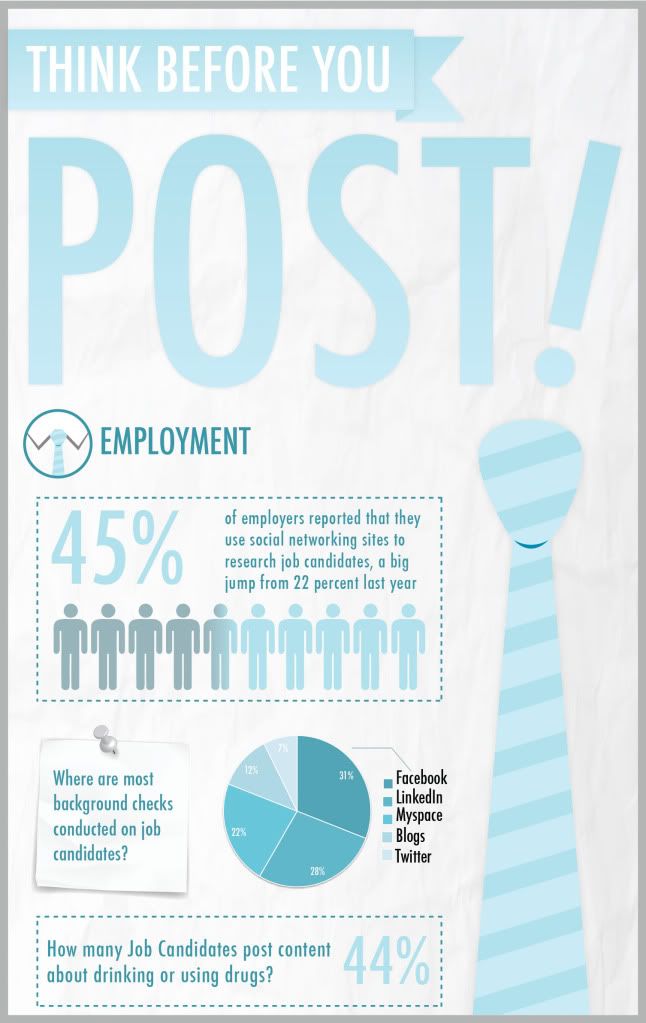 TODAY'S TIP:
Think before post! 
---
Remembering people is hard.  Evernote Hello makes it easy.  Whether you're meeting someone for the first time, trying to remember a person's name, or recalling important aspects of a previous encounter, Evernote Hello is there for you.
When you meet someone new, launch Evernote Hello and give them your phone. They'll quickly create a short profile (name, email, phone number, and twitter account).  Alternatively, you can enter their data.  You can then add photos and notes that will help you remember the person.
TODAY'S TIP:
Check out Evernote Hello as a way to keep track of people you meet while you network and interview.
---
In preparation for an interview, make sure you're well rested. The medical community agrees that an adult needs between 6 and 8 hours of sleep each night — less than that and sleep deprivation begins to starve the brain which could negatively impact the outcome of your interview.
About a year ago, New York Times bestselling author Julien Smith and FFunction teamed up to make this cool infographic titled Sleep is Awesome that highlights why getting sleep is so important.  I like the factoid that one night without sleep leaves you performing like you were legally drunk at a blood alcohol level content of 0.08.
TODAY'S TIP:
Make sure you're well rested for your interview.
---
Are you tired of going to job boards and manually searching for jobs? Maybe you should consider signing up for job alerts. By and large job aggregators and job boards offer job alert email services that will notify you of new jobs posted that match criteria (position, geography, etc.) that you specify.  
Keeping abreast of new job openings will allow you to quickly apply for opportunities.  Why is this important?  Often recruiters get overwhelmed with applications so the sooner you apply the greater the chance the recruiter will respond to you.  Furthermore, once several viable candidates are being interviewed some recruiters will either stop assessing new candidates or take their time responding to your application.  As such, quickly responding to job postings could give you the edge.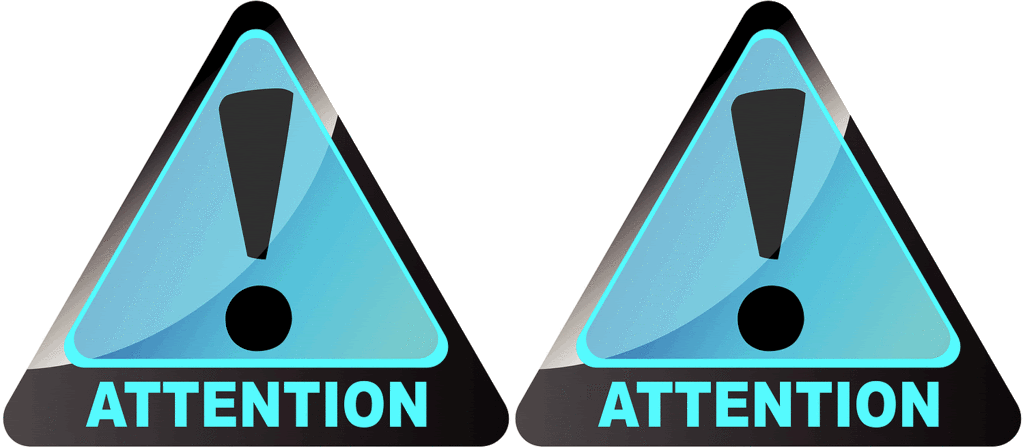 TODAY'S TIP:
Subscribe to job alerts to keep abreast of job openings as they are posted.
---
In a festive mood, I created a fun infographic on the U.S. job postings at the large and mid-sized investment banks.  I hope you enjoy!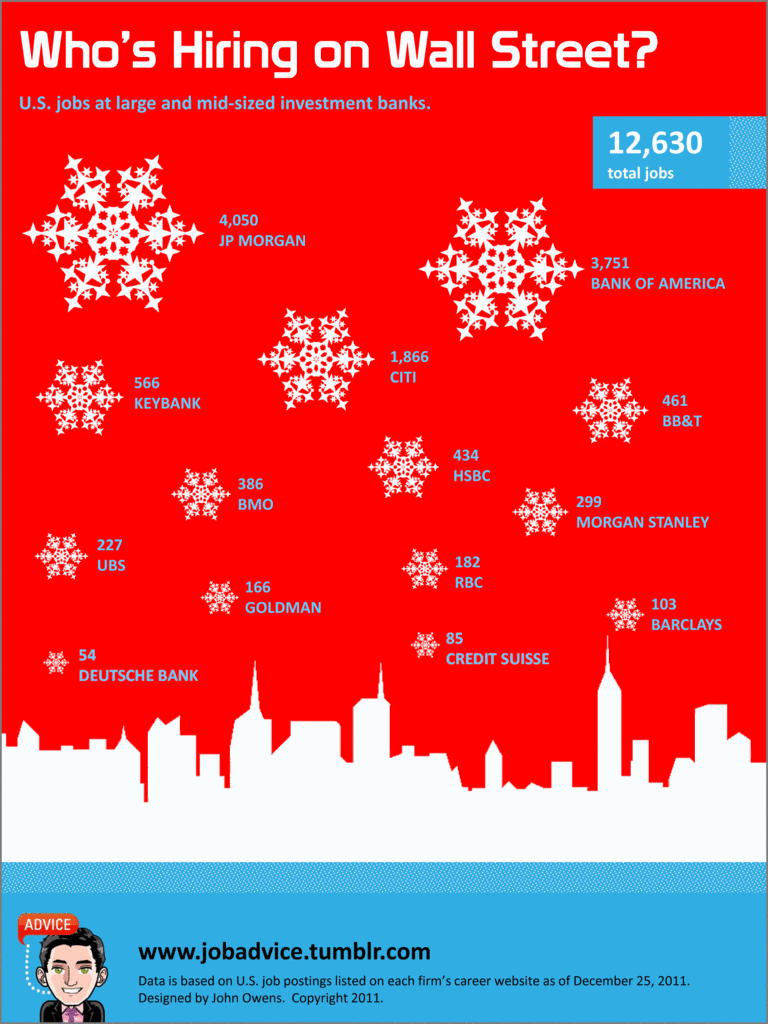 ---
Speaking at an industry conference is a great opportunity for you to raise your profile among peers, potential employers, and recruiters.  Not only do you get exposure at the conference, but also afterwards as many conference organizers keep their conference speaker lists and biographies on their websites for months, if not years, following a conference.  Many recruiters, including me, rely heavily on conference agendas and speaker lists.
Unfortunately, landing a speaking engagement at one of the notable industry conferences isn't that easy unless you're already fairly well established.  Ann Handley, Chief Content Officer of MarketingProfs, wrote a good article last year titled How to Get a Speaking Gig:  12 Ways to Charm Conference Organizers that is worth a read.
TODAY'S TIP:
Pursue opportunities to speak at industry conferences to raise your profile among peers, potential employers, and recruiters.
---
Do you find it challenging to keep track of your job search emails, phone numbers, research, and documents? Maybe the folks at Evernote have the solution for you. Once you have an account, you can access your data from anywhere you have access to the Internet, a smartphone or a mobile device. You can save your interview notes, job search details, and all of your job search documents to your Evernote account in your own customized folders to help you keep organized.
Evernote is free, but you can upgrade to a premium account that will give you bigger upload capacity, greater sharing options, access to note history, and more. Plus, you get PDF searching, faster image recognition, and no advertisements. The coolest feature for a job seeker is that iOS and Android users can add a lock to their app for an extra level of security. The premium account is $5 per month or $45 for the year.
The folks at Evernote created a humorous video that gives you an overview of Evernote:  CLICK HERE TO WATCH THE EVERNOTE VIDEO
TODAY'S TIP:
Get Evernote to keep track of your job search.
---
In this highly competitive job market, maybe it's time to consider doing a video to set yourself apart from the herd.  We recruiters always enjoy something innovative from a candidate like an infographic, video, or a personal QR code.  These tools definitely get our attention.
The folks at videoBIO provide video making services and web-based video communication systems that will allow you to generate and share cost-effective, professional quality content.  Once you have a video you can email it to potential employers, post it to your blog, or create a video page.
If you're unemployed you might create a video that describes your values, abilities, and skills.  If you have a job, such a video might not go over so well with your employer so I recommend you create a video that talks about an industry trend or hot topic.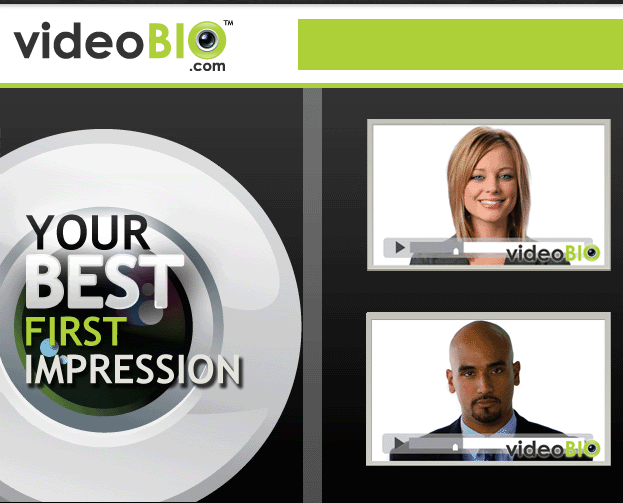 TODAY'S TIP:
Consider creating a video to help you gain exposure to recruiters and potential employers.
---
How many friends do you have on Facebook?  Over the coming holiday week I recommend you find some time to review your connections and do some purging!  Fortunately, de-friending on Facebook doesn't notify the individual or post the action on your wall.
Many recruiters, including me, look for you on Facebook to see what we can find out about you.  Sometimes we find a goldmine of data and pictures that we use to determine whether or not to contact you.
Sometimes we might find you on Facebook, but your privacy settings restrict us from viewing some or all of your profile.  However, we might be able to see your friend list.  So, you should consider adjusting your privacy settings or removing some connections!  For instructions on seeing what your profile looks like to other people CLICK HERE.

TODAY'S TIP:
Review your friend connections on Facebook and do some purging, if necessary.
---
How do you show a wide audience that you're looking for a job?  Maybe you should consider getting a 'Job Seeker' account on LinkedIn.  With a premium account, the folks at LinkedIn claim that you will be 50% more likely to be found in search results and twice as likely to be contacted by recruiters and hiring managers about job opportunities.
How does it work?  When you apply for a job on LinkedIn, you end up in a huge stack of applicants.  A 'Job Seeker' account moves you to the top of the stack.  You will also be able to reach out directly to hiring managers or connections at companies.  Another cool feature is that you can add the 'Job Seeker Badge' to your profile to stand out in search results.  More benefits are outlined on LinkedIn.
What's a Job Seeker Badge?  With a 'Job Seeker' account you can select to display a Job Seeker Badge on your profile and next to your name in search results. The badge ensures that you stand out as a job seeker when hiring managers and recruiters search for candidates.  Your LinkedIn connections will be notified of changes to your badge settings.
How Much Does it Cost?   LinkedIn offers two 'Job Seeker' packages.  The basic package is $19.95/month and the premium package is $29.95/month.  You can compare the packages at:  COST OF JOB SEEKER ACCOUNT.
TODAY'S TIP:
Consider upgrading your LinkedIn account to a 'Job Seeker' account.
---